First we will get to know the small town of Škofja Loka, which is one of the most authentic medieval towns in Slovenia. The image of the town with its defensive wall and the old city centre is like a vivid picture taking us back to the 15th century. We will try to make you experience the inhabitants' life that enriched the craft and art culture that is still very alive nowadays. You will be taken back by the delicious Škofja Loka gourmet treats offered by many pleasant restaurants and relaxed tourist farms. We will spend our afternoon hours in the capital of Slovenia, Ljubljana. Every traveller falls in love with this city and its popularity is increasing very sharply every year. The heart of the city is the incredibly cute central square with the famous Tromostovje (Triple Bridge). Ljubljana is the cultural, economical and science centre of Slovenia. You can also notice at every step that Ljubljana loves food because of its rich offer of street food, authentic local cuisine and tastes from other cultures.
Highlights
Škofja Loka, the best-preserved medieval city in Slovenia
Driving through the beautiful countryside to central Slovenia
Ljubljana, the capital of Slovenia
Ljubljana Castle
Variegated gastronomy
Program
Škofja Loka
The picturesque town Škofja Loka preserves its image from the year 1511, when it was renovated after a big earthquake. The Škofja Loka castle oversees the Town Square and Lower Square and it keeps in its bosom also a very well preserved farm house form the 16th century. The streets of this town hide many preserved hand crafts of this area. The most important particularity of this town is the history of the Škofja Loka Passion Play, which is staged every 6 years as street theatre. The Passion Play is the oldest Slovenian drama and an extraordinary theatre work, which was listed on the UNESO Representative List of Intangible Cultural Heritage of Humanity.
Ljubljana
Ljubljana is a medium size European city offering everything we can expect from a European capital, but still preserving a soul of a small town. The history of Ljubljana goes back to the time of the Roman Empire, when its name was Emona. Luckily Ljubljana preserved a bit of all the rich periods after that, so that we can nowadays see how nice the old combines with the new. Because of its location it has always been the congress, trade and negotiation centre of Middle Europe. By walking across Tromostovje (Triple Bridge) and down the river Ljubljanica we will pass by numerous cafes and inns and feel the special romantic beat of the town. Ljubljana hosts plenty of universities and it is also home to many students who give it a special vigour and creative energy. If you are a real »foodie«, you can take pleasure in many local inns and try old typical Slovenian dishes, excellent Slovenian wine and craft beer growing in number by the year. Come with us and fall in love with Ljubljana.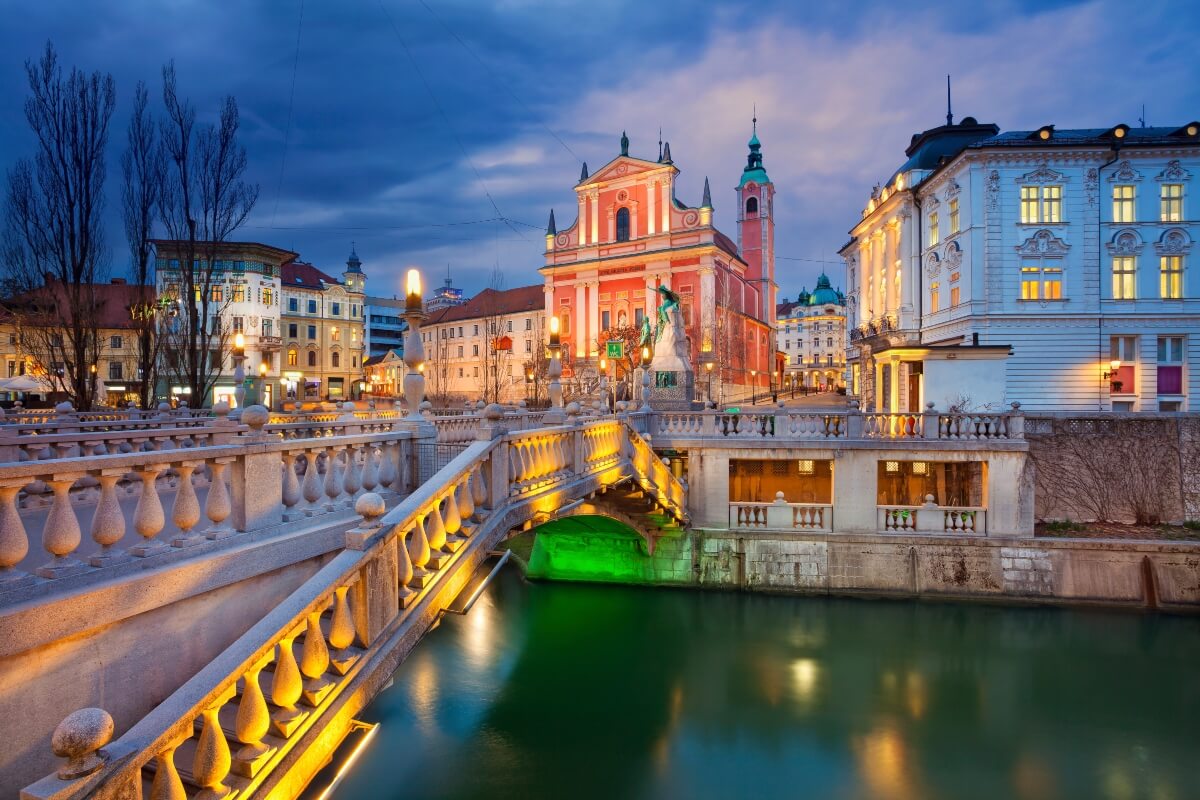 Other information
Departure time can be agreed upon based on your wishes. We do reccomend starting at 8.30.
Departure location by agreement. We can pick you up from our local accomdation, meet at our agency in Kanal or other location that suits you.
This is a day trip lasting aprox 11 hours.
Included
Organization of the trip
Departure and arrival at our agency in Kanal or at your accommodation or by agreement
Travelling in comfortable air-conditioned vehicle
Parking fees, local taxes, insurance
Professional English or Italian speaking guide
Bottled water during the trip
Visiting Škofja Loka and Ljubljana highlights
Not included
Other eventual entrance fees
Food and beverage
Tip
We usually travel with small groups of max 8 people, by agreement we exceptionally allow larger groups of visitors.
You can take with you some snacks, but it's not necessary since we are always passing by local inns and other providers
Our day will be long so we suggest you to wear comfortable clothes and shoes and always take with you a warmer jacket
Difficulty: Medium – walking and sightseeing the cities, we will take as much brakes as you want and as long as you prefer