This are the home places in Soča valley wher everyone knows everybody and you hardly take a short walk passing by the villages since everyone you meet invites you in the cellar to try his special medicinal drink. Places of goodhearth and pristine people wich are droven forward by the hinterland mind and soul with the ancestral tradition but with right measure of modernization. You have to meet this life with all your senses.
Highlights
Kanal ob Soči
Etnological collestions and tradition
The museum collection of 1.and 2.world war
The museum of blackshmiting
Countryside
Friendly and hospitable local people
Excellent authentic local gastronomy
Program
Kanal
We will start and end our journey in Kanal. A special little place at the beginning of Soča valley with a well known view of the bridge over the river Soča. A picture of this bridge is a must have in your portfolio while traveling in Slovenia. On a short walk through old square and tiny streets where you can during summer time admire a street exibition of art of local artist, you will soon feel that this is a town with rich art soul. We will cross the bridge and stop at the local cheese diary wich products are made from milk of cows that live and grazes in a remote, clean nature. If we'll be lucky we'll allso meet and old guy who makes traditional carnival masks known fort his area.
Nadavče
The history of the curch of Marija Snežna it's interesting for many legends of it's making. We'll fascinate you with some misterius stories from the time of it's creation some of them written and some of them told by our grandfathers.
Avšje
Tiny little village on the sunny hill, with closely united houses and pristine hinterland soul. On the Jug homestead there are keeping a private colection of war and etnological items. At the neighbours Lukčevi we'll try the best dry meet and salami of our area.
Testeni
In this vilage the time goes by really slowly. Only few familiees living here but all rich in agricoulture and cattle farming. The cows go for a walk from the barn to the pasture in the morning and in the evening. The locals have always ready a storie about something bizzare and verry funny occassions but that always happend to their neighbur.
Lokovec
Through forest the road takes to Lokovec. In this area 48 buildings are on the list of important kultural heritage. We'll stop at the blacksmith museum and get to know the life of a blacksmith farmer form Lokovec.
Banjšice
A green plateau of extensive meadows, where the basic activity of population is cuttle farming and agricoulture. Endless pastures are the kingdom of cows and horses. And the fact that the cows are reall queens here you understand when you'll enter in a barn of 30 cows and the farmer calls them all by their name. Fascinating. We'll be hosted on the DS Camping farm wich is focused on sport and amatorial horse farming and is in the late years verry well integrating everything with tourist offer.
Kanalski vrh
Befor returning in Kanal our last stop wiull be at Kanalski vrh. Place known by big farms where the change of generations did not ruin but strenghtn the activity and interess of farm keeping. The particularity of this place is the acumulation lake wich was build for electricity generation. The location of the lake is verry interesting and offers nice views of surroundig mountains .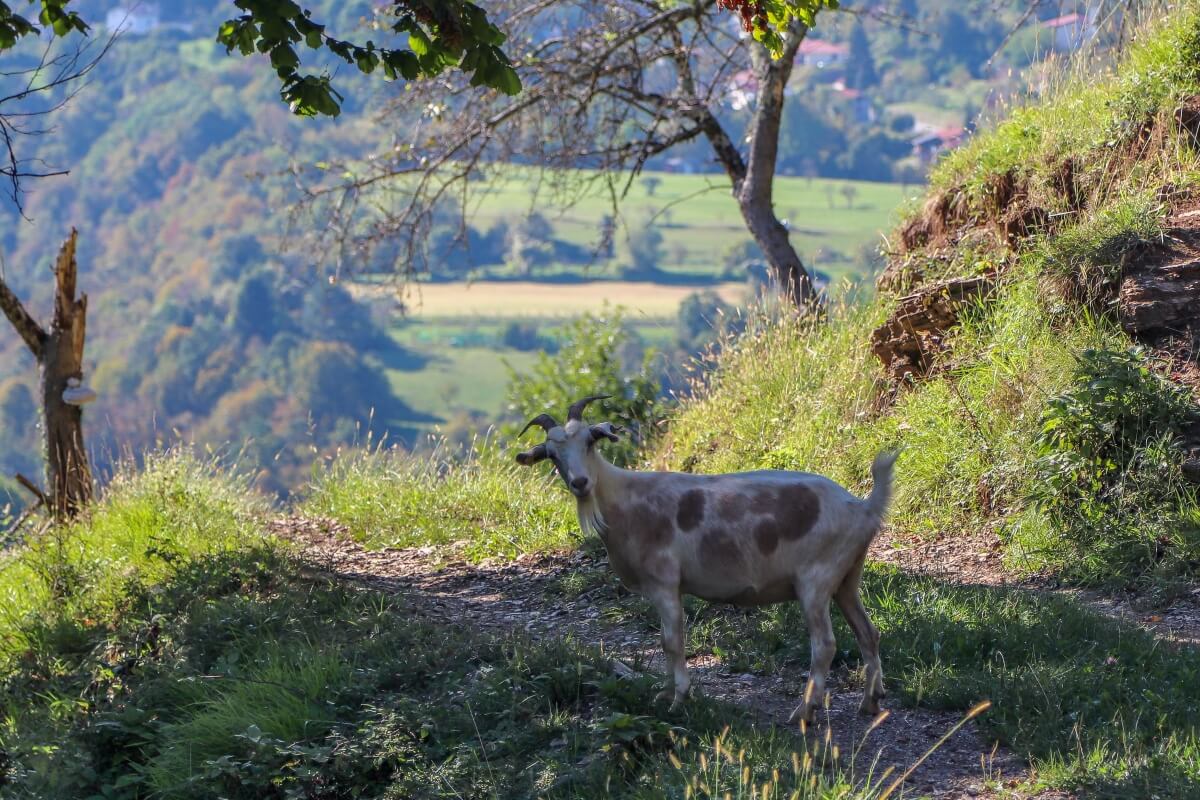 Other information
Departure time can be agreed upon based on your wishes. We do reccomend starting at 8.30.
Departure location by agreement. We can pick you up from your accomdation, meet at our agency in Kanal or other location that suits you.
This is a day trip lasting aprox 7 hours.
Included
Organization of the trip
Departure and arrival at our agency in Kanal or at your accommodation or by agreement
Travelling in comfortable air-conditioned vehicle
Parking fees, local taxes, insurance
Professional English or Italian speaking guide
Bottled water during the trip
Visit of the local sights in Kanal Munucipality
Not included
Other eventual entrance fees
Food and beverage
Tip
We usually travel with small groups of max 8 people, by agreement we exceptionally allow larger groups of visitors.
You can take with you some snacks, but it's not necessary since we are always passing by local inns and other providers
We recommend sportswear and footwear, you shoud allso always take a warmer sweater with you.
Difficulty: Light : short walks